NWA 400K for Autism
Jun 28 - Aug 22, 2020 at 8:00 AM
Virtual Event, Bentonville, AR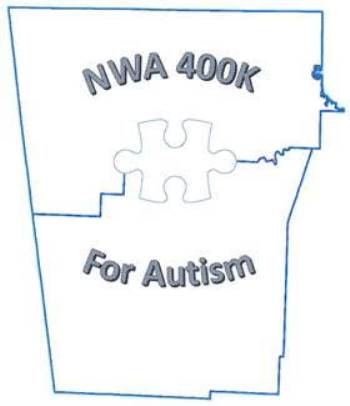 How does it work?
Participants 'move' around NWA for autism. You can run, bike, ride, swim, walk, crawl (or any other form of forward movement) 'around' NWA (Benton and Washington county). The combined perimeter of Benton and Washington county is approximately 254 miles which is slightly over 400K distance. Side note … This assumes traveling the shared border twice for those who will check my math/method.
Participants will have 8 weeks to complete the total distance in a non-motorized fashion.
As an added bonus, every race entry fee is an auto entry into a raffle with some AMAZING prizes. AND 100% of your registration is a donation to Autism Speaks.
Staying true to the Autism events in the past, there is a "participate from the couch" option. I get it … some just want a chance to win a raffle prize or contribute to the cause.
When do I have to complete it?
June 28th – August 22nd
Are there finisher awards?
Yes! This is one of the most exciting additions to the event. Organizer is still ironing out the exact design of the participant award - but here's a sneak peek at the early design prototype.
How will I prove I completed it?
You just say you did. There is no need to submit verification … that's just complicated. Send an email to jleachman06@gmail.com when you complete it.
However, there will be a FB page to post your mileage updates and pics to encourage others. Energy and enthusiasm welcome!
What are the prizes that are being raffled?
Only the best things NWA has to offer!
- Entry to the 2021 Run Bentonville Half Marathon
- Entry to Trifest for MS 5K (1 of 2)
- Entry to Larry's Run, 2020 (fall) – 8 mile (1 of 2)
- 60 min massage at The Wellness Center in Fayetteville
- Gift Basket from Three Dog Bakery
- $100 Target Gift Card
- $100 Fish City Gift Card
- $50 gift card to JUNK store (1 of 2)
- Arkansas Physical Health and Rehab- one hour massage gift certificate. ($70 value)
- Stephna's Portable Fitness- one Fitness assessment and five personal training sessions gift certificate ($150 value)