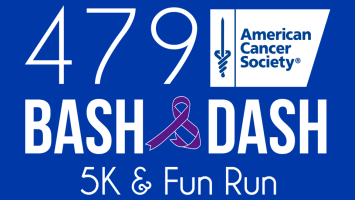 Join us at the 479 Bash & Dash as walkers, runners, and volunteers come together in our local community to honor cancer survivors, raise awareness about reducing cancer risk, and raise money to help the American Cancer Society fight the disease.
The event starts with a family-centered BASH block party on Friday, August 11, at the American Cancer Society office. We will have food, fun, and packet pick-up from 6-8 PM. On Saturday morning are the DASH options for runners and walkers: 5K at 7 AM and 1-mile Fun Run at 7:45 AM. On Saturday morning, cancer survivors and caregivers have access to the Survivors Tent where they will meet fellow survivors and caregivers, share stories, participate in fun activities and receive a special gift. Survivors unable to participate in the 5K may also spend time here while family and friends participate in the DASH.
Registration for the first 100 participants in the 5K guarantees a performance running shirt with the 479 Bash & Dash logo, and each Fun Run participant receives a finisher's medal. The top three male and female finishers overall and in each 5K age category in will receive awards.