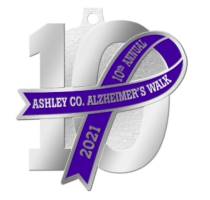 How does it work?
Participants 'walk, run or move' to support the Ashley County Alzheimer's Walk. You don't have to be an Olympian to earn a medal this summer! The Ashley County Alzheimer's Walk is committed to serving patients and caregivers alike above all else with proceeds helping your neighbors.
This is a Virtual event to encourage movement of any kind to while supporting the association. We encourage you and your friends to enjoy a cause that touches so many different lives. You can run, bike, ride, swim, walk, crawl, yoga (or any other form of movement). Your registration is a gracious donation to the Ashley County Alzheimer's Walk.
When do I have to complete it?
August 28 – September 28
You will receive a custom finisher medal in the mail. First come first serve on this commemorative 10th anniversary medal. We will ship as soon as we recive them; approximately 30 days after completion of event.
How will I prove I completed it?
Register for the event and that is all the proof we need! There is no need to submit verification … that is just complicated.
If you are on Facebook, look for the public group Ashley County Alzheimer's Walk Virtual 5K, join the group, and post your updates if you want but this is not required. Energy, enthusiasm, encouragement, and building a community of positive support is the purpose of the public Facebook group.
Questions: contact Laura Murray at 870-415-0297 or ribbitmurray70@yahoo.com.