The Carol Carter 5k
Saturday, August 11, 2018 at 10:00 AM
Stony Creek Metropark - Southdale Picnic Area , Shelby Township, MI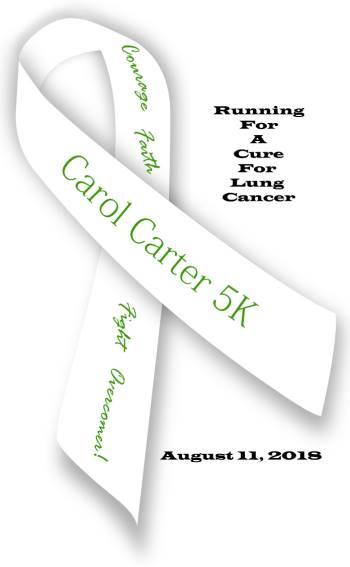 The Carol Carter 5K
This 5k is named after my godmother and aunt, Carol Carter, who about a year ago, was diagnosed with stage 4 lung cancer. The idea of the "Carol Carter 5k" originated about a week after I tore my ACL. I, myself, rely on exercise as an outlet for stress, and when that was taken away from me, it made me think and reflect. I simply could not imagine never being able to run again. Almost a week after my accident, I got a call from my mother, who was in tears explaining to me how Aunt Carol was diagnosed with a serious form of lung cancer. Lung cancer is often times a terminal diagnosis, but if anyone can beat the disease, it is my Aunt Carol! The idea behind the "Carol Carter 5k" is to bring healthy, active people together to have fun, to run, and to raise awareness and funds to support those afflicted with lung cancer. The proceeds from this event will help to support the Lung Cancer Alliance, an organization that supports patients and research for a cure for this difficult illness. Please support my cause.. Join me on August 11th at 10:00 AM- Stony Creek Metro Park, Southdale Picnic Area.
Nichole Geist
Packet Pickup and day of registration starts at 8:30 AM.
Admission into Stony Creek Metropark is $10 unless you have an annual Metropark Pass.
Race day registration increases to $35.