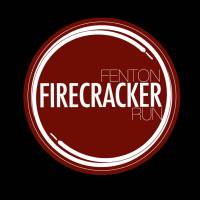 We will run the 6th annual Fenton Firecracker, a great race for athletes and weekend warriors alike. The Race will begin on corner South Adelaide and Mill St. .Packet Pick-up_______ If you are unable to make those times, you can pick them up at the south side of Ellen Street Campus, 404 W Ellen Street, Fenton, beginning at 7am on the day of the race.
2. Race begins at 9:45am so be sure to be in place with your bib on by 9:30. Race starts on the corner of Mill Street and Adelaide heading north.
3. Parking will be at the Ellen Street Campus, 404 W Ellen Street, Fenton, MI.
4. We do not currently have a secured drop off for keys/bags but if you need, we could arrange for someone to watch the bags in a location at the finish line.
5. One prize will be given away to the overall winner of the race; a prize will be given to the top female and male (minus the overall winner) as well. Then, a gift card will be given to each top female/male in their age category. Every racer will receive a medal. Ceremony will take place at the finish line beginning at 10:20.
6. If you have any questions, you can reach us at office@tfconline.org.
7. Water, bagels, fruit and granola bars will be available at the finish line.
* all 5K runners must maintain a 3.5 mph pace
For additional information: jason@tfconline.org (810)629-5261 www.tfconline.com