Flapjack 5k & 1 mile Run/Walk
Sunday, June 3, 2018 at 9:00 AM
Shawnee Elementary, Macomb, MI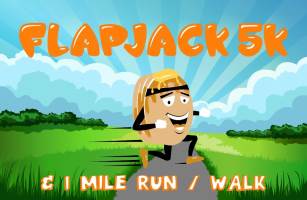 This event is in it's 14th year and will benefit the Kids Coalition Against Hunger. This is a family friendly event with a 1 mile fun run/walk completely on school grounds and a 5k that loops runners and walkers through quiet residential streets. New this year: unique clay finisher awards crafted by a local artisan, soft race shirt and a post race All You Care To Eat pancake breakfast is included with your registration. Additional breakfast tickets can be purchased for $5 for friends or family members.
The team division will award the fastest team and the team with the most participants! Teams must have at least 3 members and can have as many as 30. Fill in your team name when registering. Team members should use same spelling when adding team name. Team scoring is only available to pre-registered teams.
Last minute registration and packet pick-up at Shawnee Elementary, 21555 Vesper Drive, Macomb Friday 4:30-6:30 pm and race morning starting at 8:00am. REGISTER BY MAY 26th TO GET A SHIRT. ONLINE REGISTRATION CLOSES SATURDAY AT 6:30 PM.