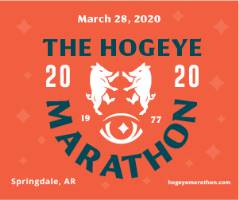 Upon the recommendations of the CDC, State & Local officials, our sponsors, and our sanctioning organization the RRCA; The 2020 Hogeye will offer a virtual race instead of the official race previously scheduled on March 28, 2020.
The Hogeye Marathon will join numerous other events in an attempt to protect runners, volunteers and emergency medical personnel by putting your health and safety first.
Virtual Race Rules: Runners may submit their virtual route which should consist of a planned route equal to or greater than the race distance they registered to run. This may be accomplished using a fitness tracker or app. Runners/Walkers will have between March 28-May 16 to submit.
Relay teams must submit proof of completion only once but each member should run the minimum of 6.5 miles, and team members may run together if desired. (all run same 6.5 miles).
As a charitable event, refunds for 2020 registration will not be offered.