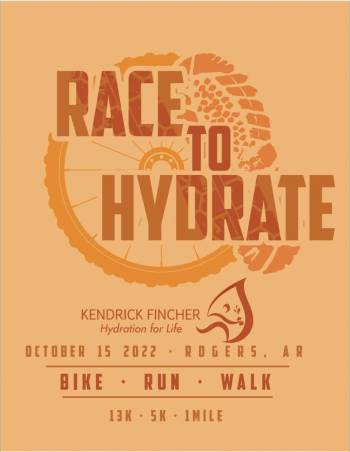 Kendrick Fincher Race to Hydrate!
24th Annual 5K, 1K Youth Run, and 13K Run or Cycle
Kendrick Fincher Hydration for Life's mission is to promote proper hydration
and prevent heat illness through education and supporting activities. We hope
you will join us for a fun Saturday morning October 15th and support our
mission!
October 15: Saturday morning staggered start times, Everyone will line up in succession.
7 a.m. - 13K Cycling
7:02 a.m. – 13 K Runners
7:03 a.m. – 5K Runner and walkers
8:30 – Awards
8:45 – Youth Run events start
9:00 – Toddler Trot
9:10 – 1K Youth Run
We will have beverage stops along the course, and food and more beverages
at the finish line!
Registration Pre-Run Packet Pick Up:
October 14, Location TBA