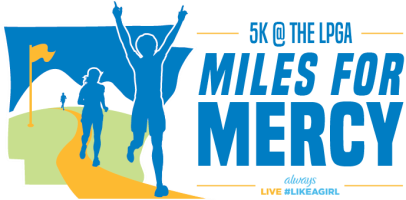 Run for good and support Mercy Health Foundation and our local healthcare heroes! For every mile walked or run between June 15-June 20, P&G will donate $1 to Mercy Health Foundation (up to $15,000). All ages are welcome and miles can be completed on your routes of choice. Note: biking miles cannot be logged as part of this challenge.
After registering, participants will receive a link to join the Miles for Mercy Strava club where they can log their miles. Only miles logged on the Strava Club during the week of June 15–20 will contribute to the total donation.
Participant registration is free with the option to add-on a community t-shirt for $10. For t-shirts ordered before June 11th, participants can pick up locally before race week. T-shirt pickup will be on Saturday, June 13th from 10:00-3:00 in the north parking lot of Mercy Hospital in Rogers. Pickup will be a drive-thru to minimize contact and participants are encouraged to bring cards thanking a healthcare worker. Awards will be given to the individuals & families with the most total miles.
Corporate Challenge: Join the Annual Corporate Challenge to rack up miles with your coworkers and compete for awards against other local companies. Teams compete for the titles of Fittest Office, Fastest Office, and Most Spirited Team in NW Arkansas! Only 5 participants are needed to form a team. Contact Brandi.Mikula@octagon.com to create a team for your office.