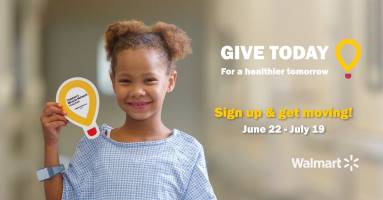 How does it work?
Participants 'move' to support Children's Miracle Network Hospitals.
CMNH's treat 17 million children each year for every disease and condition imaginable—from asthma and broken bones to cancer and heart defects. Each year CMNH's adopt life-saving equipment. Perform breakthrough research and provide more than $2.5 billion in charitable care. Children's Miracle Network Hospitals are committed to serving children above all else.
Due to the COVID-19 restrictions we are opening this up to encourage movement of any kind to help support this organization and to encourage people to get out and move. You can run, bike, ride, swim, walk, crawl, yoga (or any other form of movement).
Participants will have 28 days to complete the activity of your choice.
Your registration is a donation to Children's Miracle Network Hospitals.
When do I have to complete it?
June 22 – July 19
You will receive an official race bib that the children at Arkansas Children's have decorated, and a custom finisher medal which also features artwork created by the children at Arkansas Children's!
How will I prove I completed it?
You just say you did. There is no need to submit verification … that is just complicated. If you are on Facebook, look for the public group "Moving for a Miracle"; join the group, and post your updates and pics to encourage others. Energy and enthusiasm is welcome!
If you do not have a Facebook account just send an email Lynn.Schmidt@wal-mart.com when you complete it.