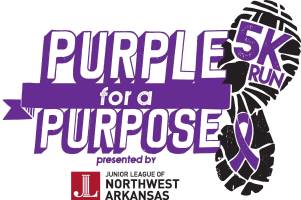 The Race
October 17-24, 2020
Event to be completed at your convenience on the course of your choice
The 6th annual Purple for a Purpose 5K and Fun Run will be a virtual event held between the dates of October 17th through October 24th. Its purpose is raising awareness around the issue of domestic violence here in our community. This year, you can pick the date of your run and the course! We encourage you to find a fun and safe route on the beautiful trails in Northwest Arkansas.
We ask that you track your race on Strava, Garmin, Runkeeper, Map My Run, Nike Run Club, or whatever app you use to keep track of exercise between the dates of October 17-24, 2020 and submit your screenshot of your run to 5K@juniorleaguenwa.orgto be entered for prizes and medals following the completion of the event.
Not interested in running 3.1 miles? In addition to the 5K, this year's event will include a 1-mile Fun Run/Walk, perfect for kids and those who prefer a slower pace.
Out of town on race day? Work nights? Or just enjoy sleeping in? We also have a Sleep-In for a Purpose option!
We ask for your support as it is our hope for our community as a whole to band together and make the statement that we will not tolerate domestic violence and ongoing abuse. This event is held in October during Domestic Violence Awareness Month with the goals of educating the community what domestic violence is and that it does not discriminate within any demographics. Just as the JLNWA empowers the women within our league, we want to empower the public and domestic violence survivors to take a stand.
Our Mission
The Junior League of Northwest Arkansas (JLNWA) is an organization of women committed to promoting voluntarism, developing the potential of women, and improving the community through effective action and leadership of trained volunteers. Its purpose is exclusively educational and charitable.
The Junior League of Northwest Arkansas is a 501c3 charity organization. Signing up for this race is considered a donation to charity, and as such if the race is canceled for inclement weather or other reasons, your donation will not be refunded, and will be put to good use helping to prevent and raise awareness of domestic violence in Northwest Arkansas.