Run-A-Muck 5k
Sunday, June 17, 2018 at 10:00 AM
Scholl Farms, Montague, MI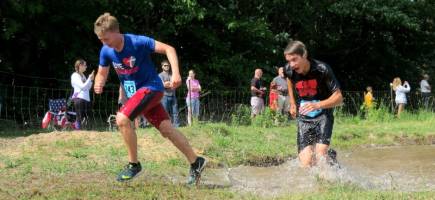 Want to challenge yourself on a real European-style 5k cross country course? This is a real working farm with the course winding runners through wooded trails and fields. Topography is mostly flat terrain with obstacles to include water/mud jumps, hay bales, logs, and new challenges. Mens' and Womens' overall, age group and special category awards will be given out (see our website as www.schollfarms.com for details).
Register before June 12 to get a custom tie-dyed event long sleeve shirt! Online registration closes Saturday June 16th at 5:00 PM. Race day pricing increase!
Schedule of Events
9:15 am SPLASH & DASH 1K kids race (10 and under). Register on race day for $1 (does not include a shirt). Ribbons to all finishers.
10:00 am The RUN-A-MUCK 5K. Walkers and Dogs on leashes are welcome!
11:15 am SACK RACE For kids/ adults 10 and older. 3 person (4 legged) race
11:45 am AWARDS CEREMONY
12:15 pm POST RACE HOMEMADE POTLUCK bring a dish to share and your place-settings. Please be mindful to use earth friendly materials.
This is a fun day for all sorts of people - serious competitors, casual fitness folks, kids and their families, pets and pet lovers, photographers and lovers of nature. You'll love the awards, the awards ceremony and the potluck lunch.