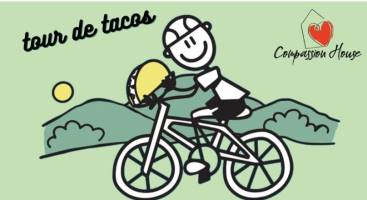 Tour de Tacos event presented by Lewis and Clark benefiting pregnant teens in crisis at Compassion House. Hard surface rides on the Razorback Greenway – 62, 30, and 7 mile family friendly bike rides available. Taco rest stops along the way!
ONLY the first 250 registrants are guaranteed a swag bag! Register by July 31st will receive a shirt.
Helmets are required to ride. Early packet pickup will be available September 9th 4-6pm at Lewis and Clark in Rogers.
Start Times;
62 Mile 7:00 AM
30 Mile 8:30 AM
7 Mile 10:00 AM
1) Online registration ends 9/8 at noon. Day of event registration is
$75 and opens 45 minutes prior to each event start time.

2) You asked and we have answered! If you would like to purchase an
official Tour de Tacos cycling jersey and/or shorts we have partnered
with Flobikewear to create a custom jersey to support the pregnant and
parenting teens of Compassion House.

They are donating $20 of every jersey sale and $12 of every shorts
sale back to Compassion House. If you are interested in purchasing
these items, visit
https://www.flobikewear.com/products/tour-de-taco-for-compassion-house

In order for you to be able to have them here by the pre-rider pickup
on 9/9 you will need to order by 8/7/21. All orders go directly
through their company website.
Routes begin and end at Lewis and Clark in Rogers at 2530 S. Pinnacle Hills Parkway – Rogers, AR.
It is important that all riders are familiar with the mapping as signage will be limited among the trailway. Strava has the full routes mapped and we encourage you to download this link ahead of time